Angus is one of Britains' brightest young talents. Born into a family with a love of horses in the north east of England, it was preordained that he would start riding at a young age.
Angus' father was an amateur hunt servant and both his mother and brother evented so horses were always around. Inevitably Angus became mad keen and enjoyed his first days hunting on the lead rein at just two and a half years old. Taking after his father Ian, Angus always wanted to go fast and jump and so his passion for hunting developed! Later, he joined Ian whipping in to the Braes of Derwent.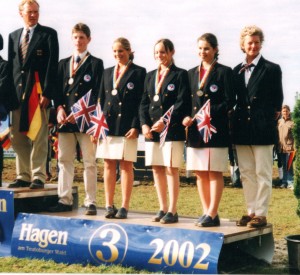 With his brother competing in teams, it was a natural progression that Angus would join the Pony Club. Like many British event riders, he went up the levels and competed in his first senior Pony Club Championship at Sansaw at the age of eleven.
Over the years, Angus has had great success with limited resources and seen potential in ponies and horses that others had not.
Angus' first big success was with Cornsay Sam, who was a hand-me-down from his brother. Together they went to Ballindenisk in 2000, whilst involved with the British development squad. Angus and Sam joined the British Pony Team in 2002. Together they travelled to Hagen and achieved a team bronze medal, finishing best of the Brits.
In 2005 Angus and his father bought Cornsay Grouse as a freshly broken six year old from Olympian Ian Stark (even though Grouse had bucked Ian off the day before Angus went to try him)!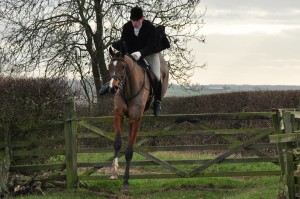 Angus left home in October 2006 and headed to Leicestershire, joining Oliver Townend's team as stable jockey. After just under two seasons based with Oliver, Angus set up alone when Oliver relocated to Shropshire.
In 2008 Angus began whipping in for the Fernie, and has continued to do so ever since; the 2012-2013 season was his fifth with the pack.
Grouse turned out to be Angus' breakthrough horse, taking him round his first four star event at Burghley in 2007, aged nineteen. After his initial four star success, Angus was offered the ride on Saxon Cross. They finished third in the CCI3* under 25's section at Bramham and were short listed for the Young Riders team in 2008.
Angus won his first senior title in 2011 with Clover Hero, a horse owned by Charlotte Straker. Charlotte has been one of Angus' most loyal supporters, buying her first horse for him to pilot just after he finished school. This British Intermediate title was won during the Festival of British Eventing at Gatcombe Park, a venue which is now close to Angus' heart.
Clover Hero still heads up Angus' team of horses, along with Ballyvooney with whom Angus again completed Burghley in 2011.
Angus' records around some of the biggest European tracks are outstanding especially at such a young age; He has notched up six out of six clears at Burghley in consecutive years and has completed Bramham CCI3* every year since 2006.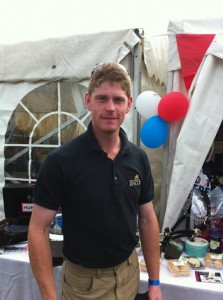 Now based at Allexton Hall near Uppingham in Leicestershire, Angus has an exciting string of horses, many of which he has produced from youngsters. His loyal team of owners and impressive list of achievements are testament to his dedication and love of the sport.
For full details of the horses that Angus is competing this year, please click here.